Between 2010 and 2020, data got big, genomics got personal, and devices got smart.
1. Big Data

The ability to collect, analyze, and use 'Big Data' has given individuals, corporations, and governments access to more information about individual people, groups, and populations than ever before. What is Big Data? The definition that matches the way I think about it is, "extremely large data sets that may be analysed computationally to reveal patterns, trends, and associations, especially relating to human behaviour and interactions." Although the concept has been around since the late '90s, the 2010s is when it vaulted from scientific and computing communities into common vernacular (more history at: "A Very Short History of Big Data"). Some claim that, "the real revolution isn't about the data, it is about the stunning progress in the statistical and other methods of extracting insights from the data." Although I agree that the analytics are important (and impressive), the cultural issues associated with big data are becoming more and more prominent. As I write, I have no doubt that Google, Facebook, Verizon, and countless other corporations are actively mining my data and using it for their benefit, not mine. As an individual, I want to control how my data is used, who gets to use it, and who profits from it. I could write more, but instead I'll refer you to: "The WIRED Guide to Your Personal Data (and Who Is Using It)" and leave you with my final thought,
Big data isn't about the data, it's about how it's used, and who owns it…
2. Personal Genomics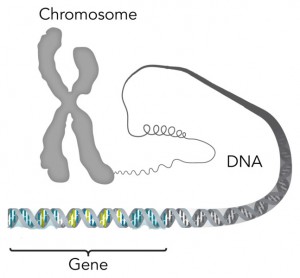 At home DNA tests (e.g. Ancestry.com and 23andMe) that provide ancestry, health, and genomic information (personal genomics/consumer genetics) have become pervasive. By the beginning on 2019, "More than 26 million people have taken an at-home ancestry test," and the popularity of these tests is growing by the minute. In addition to providing color-coded maps of ancestral origins, they may also provide geneological records (Ancestry.com boasts 1.9 billion records added in 2019) and health information (23andme.com has FDA approval for a number of direct-to-consumer health screenings). The implications of widespread consumer genetic testing are likely to be far-reaching, and issues of privacy rights, genetics, and medicine are likely to flare in the next decade.
Health Information: Although many sites are now offering to health analyses for increased fees, motivated individuals can research much of the same information by cross-referencing their raw data with known genetic variations using sites like SNPedia. Although 23andMe doesn't appear to be marketing it yet, they've gained FDA approval to provide reports of genetic variations commonly associated with individual drug metabolism pathways (i.e. pharmacogenic testing including CYP2C, CYP3A, CYP2D6 et al). This has a huge potential to positively impact the medical and pharmaceutical industries.
Discrimination: The US doesn't have a great track record when it comes to genetic discrimination. In fact, "eugenics, the set of beliefs and practices which aims at improving the genetic quality of the human population played a significant role in the history and culture of the United States," gained widespread popularity in the US in the '20s, leading to eugenical sterilizations in 34 states in the US (including California, Vermont, Virginia, Maine et al).  Although these policies were largely abandoned by the '60s and '70s, it's not clear if we've been able to entirely close this chapter of our history. Questions about how personal genetic information will be used to inform our health, happiness, and security in the future are likely to be hot topics in the coming decade.
Military Implications: Interesting link (December 27, 2019):  "Why The Pentagon Is Warning US Military Not To Use Recreational Genetic Test Kits"
3. Smart Devices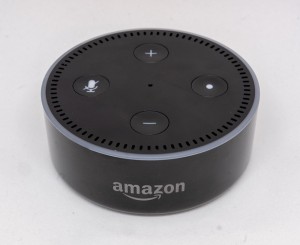 The number of interconnected, web-enabled devices collecting and sharing data (with or without human intervention) all the time is estimated to be in the billions. It began with the widespread adoption of smartphones, and quickly expanded to wearable technologies (e.g. smartwatches and fitness trackers), and now includes Amazon's Alexa and other smart home devices such as thermostats, light switches, TVs, washing machines, and just about everything else you can think of. As we enter 2020 the number of smart devices on the planet exceeds the number of people on the planet and the amount of data generated (and shared) by all of these devices and the 'internet of things' is unprecedented.
4. Smartphones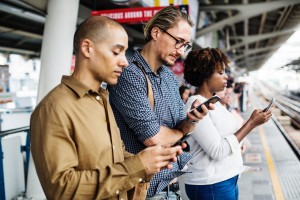 Smartphones have become so ubiquitous, that it's hard to believe that they were first released in 2007/2008 ("The History of the Smartphone"). As of 2019, more than 90% of Americans under the age of 50 own a smartphone (according to the Pew Research Center) and the % of people that are accessing the internet through smartphones is growing across all demographics. From  my 9-year old niece to my 86-year old grandmother, pretty much everyone I know has a  smartphone.
Smartphones follow us everywhere we go, from the city to the back-country, and there are apps for everything now! In the 2010s high-res cameras became standard in smartphones, Instagram was popularized, and by 2013 selfie was a word recognized by the Oxford English Dictionary and a whole new language was adopted for texting and social media: emoji. In addition to cameras, GPS (global positioning service) receivers are standard in smartphones, allowing us unprecedented access to information about where we are, all the time (even in the absence of cell service).
Final Thoughts
What do you think the biggest technologies of the 2010s were? Which technologies are likely to have the biggest impact on the 2020s?
Additional Links:
Tags: big data, FitBit, genetic testing, personal genomics, smartphones, smartwatches, wearable technology