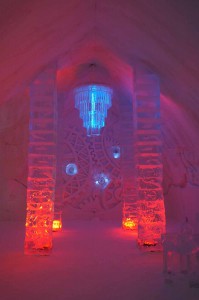 Quebec City does winter right! I have lived in Massachusetts all of my life and I tend to think of myself as being immune to the cold and crazy winter weather. But this time, instead of sticking around Boston for Nemo the blizzard of 2013, I escaped to Quebec City. Instead of thinking of the snow and ice as a plague and a disaster, Quebec City highlights the beauty associated with the bitter cold and darkness of the North East.
It snowed the entire time we were there, and it was bitterly cold. We started the trip with a night at the ice hotel in outskirts in Quebec City. It ice hotel was phenomenally beautiful, but an icy icy chillingly cold beautiful. The lights gave the illusion of warmth, but even as bundled up as we could get we were cold. The hot tubs and saunas that they provided 24/7 didn't quite manage to keep up with the chilling temperatures, so we found ourselves retreating to our room and our cozy sleeping bags in the search for warmth. Despite concerns that we'd have a chilly night, as soon as we zipped the sleeping bags up we were toasty warm… it wasn't until we woke in the morning that the frigid reality crept back into our bones.
We were definitely looking forward to a warming up before setting out for the Winter Carnival. Despite the cold we ventured out to the Winter Carnival and were rewarded by the ice sculptures. I've never actually seen professional ice sculptures and it was impressive to find row after row of them… done by both local and international artists. Going back at night was even better, with each sculpture carefully lit to bring out even more dimension. The light shows scattered throughout the city kept drawing us out despite the cold.